Tales From A Southern Mom was fortunate enough to work with Tommee Tippee on their bottles called Colour My World. They have all of the great features you have come to know and love with Tommee Tippee in great designs and colors.
These bottles are so adorable and at the same time they work so well! The nipple is very similar in shape to a mother's breast which makes it easy for baby to transition from breast to bottle. They have a vent built into the nipple that you just squeeze so that the air releases and does not get into your baby's tummy and cause uncomfortable gas.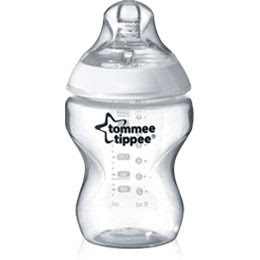 I loved how compact the bottle feels in your hand when feeding the baby so that you can get them really close to you during a feeding.  I think sometimes people believe that the only way to bond with a baby while feeding is to breastfeed, these bottles make it easy to do even if using a bottle.
In our house we have both boys and girls on bottles, so the Colour My World bottles are fantastic for keeping straight which bottle belongs to who.  They also add some great color and design to the mix.  I love cute prints.  I love cute prints on my cloth diapers, on the bottles, and on pretty much anything the babies are using.  Plain is just not for me.  The great thing is they also come in clear so that you can have them match anything in your theme for baby.
The colors are nice, but the real deal comes down to how they work.  I loved these bottles and so did the new baby.  We have never had any issues with nipple confusion, he never once refused it,  he just took to it right away for a feeding and went to the breast for the next feeding.  They clean well and easily, they always look clear and do not have that foggy look some other bottles have.  I love that the nipples are wide and easy to clean, and that the bottles have a wide enough neck that when pouring liquids into it, you don't spill.  I have tried a lot of bottles and right now these Tomee Tippee are at the top of my list.  The kids love them, and I love how clean and cute they look. 
If you have a little one that you are having a hard time with getting on a bottle, I highly recommend these.  They have been great for our house.  I will be putting this on my list of things to give a new mom at a shower.   You can check out all of the things that Tomee Tippee has to offer here at their website and have a look at their facebook as well!   Tommee Tippee has also graciously offered to giveaway a three pack of these Colour My World bottles to one of our readers.  All you have to do is enter below.